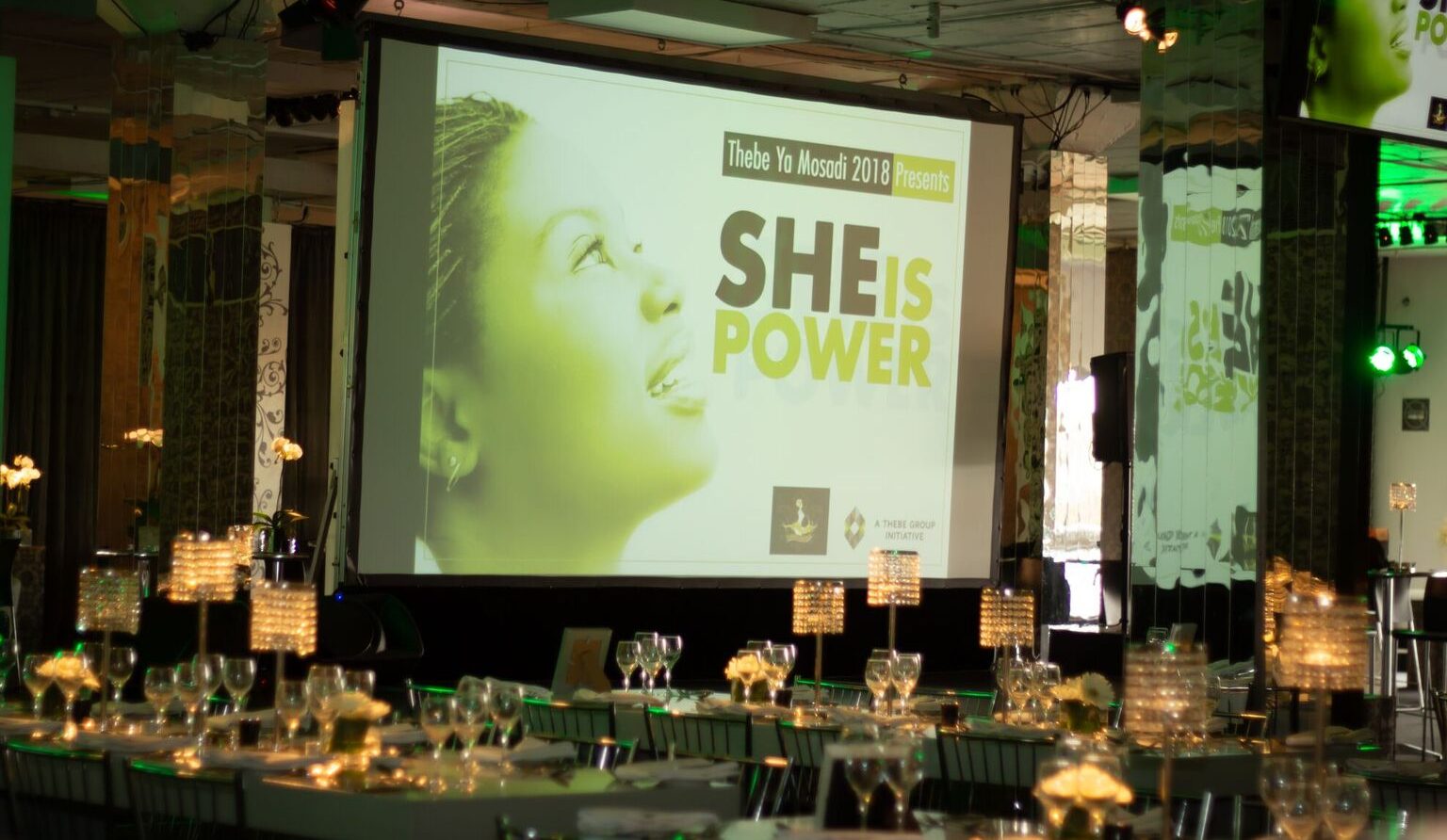 Thebe Ya Mosadi celebrates women's day by hearing from the powerful women who wear their crowns gracefully.
An annual highlight for Thebe Ya Mosadi is a women's day event where the strength of women is celebrated. Since 2014 to date the themes have included Exploring our Destiny, Finding Wellness, Aspire to Inspire and Leading from any chair. This is year has been all about Wearing a Crown and finding your inner power.
Attendees arriving at the event at Urban Oak in Kramerville with hats and headwraps were required to donate sanitary towels in support of the Caring4Girls initiative as they have since 2014. Former Malaika lead singer Tshidi Mholo provided entertainment and Nobuzwe Mbuyisa introduced the speakers who challenged and inspired the audience.
Refiloe Nkadimeng, Thebe Group Financial Director and Thebe Ya Mosadi custodian, inspired women with her focus on women who wear their crown without fear of failure:
"As you wear your crown with pride, I want to remind you that you are of the gallant fighters who mould our society and will ultimately bring about change. You are of the warrior queens. Wear your crown with pride and adjust the crown of another queen when she might not have the strength to do so herself."
Dineo Molefe, former Thebe Group Financial Director and custodian of Thebe Ya Mosadi and current MD of T-Systems South Africa, followed and focused on the reasons behind starting Thebe Ya Mosadi.
She believed it was important to start a forum where women could work towards empowering themselves, within their careers and their private lives, by having discussions with one another. She reminded the audience that patriarchy is a real issue, regardless of colour and that a woman's identity is often dictated by what society prescribes.
"Thebe Ya Mosadi had to exist. It serves as a forum for women of Thebe to voice their opinions and create an environment for growth and success. It is important for women to come together and support each other through mentorship. Everyone has the opportunity to uplift someone else – you don't need to occupy the whole table, there is room for everyone."
Sindi Mabaso, Executive Chairperson of The African Women Chartered Accountants Investment Holding Company, inspired women by reminding them how important it is to learn from failure.
"Do not feel like a victim, you are a conqueror. Use your losses to gain patience and see obstacles as a window of opportunity. Be flexible and open to change, and don't feel guilty about moving on and taking control of your life. When you step into your power, you empower others to do the same."
Sizwe Mncwango, Thebe CEO, focused on how fear can hold us back from reaching our potential. Quoting Madiba, Sizwe reminded the audience that our biggest fear is not that we are inadequate, but that we are powerful beyond measure.
"When we are liberated from our fears, we give others the power to do the same. You should not fear that the door is ajar, you should kick it wide open! Women need to stand together against all odds, build a strong coalition and don't bring each other down. Let your light be the reason others embrace theirs."
The event culminated in a panel discussion on becoming role models and leading by example, finding inner strength through introspection and embracing inner power, and finding your motivation, being bold as you go out and lifting others as you rise.
The words of wisdom spoken at this event, the reassurance of the support women have for one another and the reminder that we are powerful beyond measure have inspired the women of Thebe to wear an invisible crown of power and to be bold and fearless in all they do.